Rendall's Bakery has been a family run bakery since 1979. Started by John and Annie Rendall, the business is now run by their son George and his wife Ruth along with their children, Katie and Greg and 17 other staff. We at Rendall's Bakery are proud to provide fresh daily produce for the people of Orkney.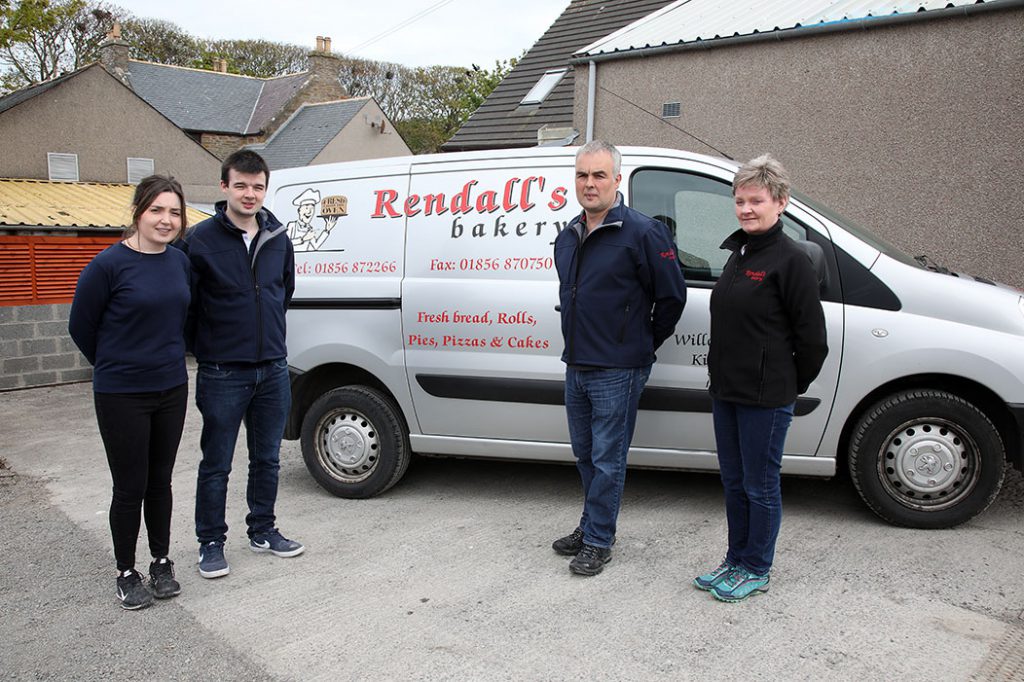 COVID -19 INFORMATION
Our shops in Kirkwall and Finstown are both currently open as normal adhering to the relevant government guidance.
The products we provide include fresh Bread, Rolls, Savouries, Fancies, Cakes and much more. In our Kirkwall shop we stock goods from local businesses such as Donaldson's Butchers Meat and Sandwiches, Crantit Dairy Milk and Cream, Russell's Cheese, Orkney Cheese, Grutha Eggs, R Smith Eggs and Potatoes, WFM Brown Westray Biscuits, Stockan's Oatcakes and more. We also supply The Orcadian Newspaper every Thursday and the monthly edition Orkney Farmer magazine.
Our shop, Baikie's Stores is a licenced general store in the village of Finstown stocking all of the above plus a wide range of general groceries, daily newspapers, stationery, toys, cards, gift wrap and much more.
Our products are also available at local businesses such as:
Papdale Stores
Frozen Food Centre
Mills Filling Station
Sutherland's Garage Stenness
Deerness Stores
The Old Trading Post St Margaret's Hope
Sinclair's of Shapinsay
Eday Coop
Ebenezer Stores Stronsay
Bruce's Stores
William Shearer
The Dounby Butcher
Holm Post Office
JC Tulloch Westray
Donaldson's Butchers
Jolly's of Orkney
Baikie's Stores
Isbister Bros, Quoyloo
B Doull & Son, St Margaret's Hope
JMF Groats, Longhope
Sinclair General Stores, Sanday
Messrs M A WIlliamson, Stronsay
Sanday Community Shop
Seaview Stores, Burray
Ortak Grocery Shop
Any Orders, Enquiries or Suggestions can be taken in the shop or by contacting us on our website.